FlashLink® VU Protein In-Transit Logger, Model 20862
This single-use in-transit data logger is accepted by most receivers and is the ideal cold chain management tool for tracking temperature during transportation of protein products. It can be used on all outbound loads, so suppliers are able to consolidate their temperature recorders to one model. Using the FlashLink VU Protein In-Transit Logger means there is no need to stock various brands in the shipping office, making inventory management easy, and eliminating the problem of running out of any one particular type of logger for a specific receiver.
This logger is designed specifically for use on shipments of protein products, with preconfigured alarm settings to alert receivers with a flashing red LED when temperature during transit has gone above 36°F/2°C or below 28°F/-2°C. Mounted on a bright green shipping card, it is easy for receivers to locate the logger upon arrival, which helps to expedite the process of downloading trip information. Our patented Shadow Log® feature guarantees data, even if the shipper forgets to start the unit. The loggers are downloaded using free FlashPDF software, and reports are saved in PDF format to email and archive for record keeping, traceability and to help comply with HACCP and FSMA (Food Safety Modernization Act) requirements. An optional CT Graphics Printer provides a paper strip chart when PCs are not available on the receiving dock.
Accepted by most receivers
Consolidate logger inventory with one brand for all shipments
High/Low alarms programmed for protein
Mounted on high-visibility locator card
Trip history statistics available on LCD
Patented Shadow Log feature guarantees data even if the operator fails to start the unit
Download data to PC as secure PDF report or print chart using CT Graphics printer
FlashLink® VU Protein In-Transit Logger
Feature
Specification
DeltaTrak manufactures products under an ISO 90001:2008 registered quality management system
Patent No. 6,088, 514
Recording Period
15 Days
Logging Interval
6 min
Measurement Range
-40°F to 122°F (-40°C to 50°C)
Temperature Resolution
0.1°F/°C
Temperature Accuracy
±1.0°F from 14°F to 77°F (±0.5°C from -10°C to 25°C);
±2.0°F above 77°F (±1.0°C above 25°C)
±2.0°F below 14°F (±1.0°C below -10°C)
Data Capacity
3823 points
Data Download Time
5 seconds typical for 3823 points
Alarms/Settings
High 36° F (2°C), Low 28° F (-2°C)
Battery
Coin Cell Lithium Battery
Logger Dimensions
1.962" x 3.423" x .575" (50mm x 87mm x 15mm)
Casing
ABS plastic
Logger Weight
1.6 oz. (45.36 grams)
Shock Resistance
Withstands 3-foot (1 meter) drop to hard surface
Certification
CE Mark, NIST traceable, ROHS Compliant
Display
°F Scale on LCD, Red LED Alarm
IP Rating
IP56
Storage Conditions
-4°F to 122°F (-20°C to 50°C) 0% to 95% RH w/o condensation
Min. System Requirements
Windows PC with current operating system, FlashPDF software, Adobe Reader
Download Requirements
8-Pin to USB Adapter
Download FlashLink® VU Protein In-Transit Logger Spec Sheet
Each FlashLink VU Protein Logger is mounted on a bright green shipping card. This makes it easy to find when a load arrives and enables receivers to download the trip report immediately. The card has printed instructions in English and Spanish, for shippers to start the logger and receivers to download the unit. A diagram identifies and describes the various icons that can be displayed on the LCD
FlashPDF
FlashPDF is a simple program used to create a locked PDF file with data downloaded from any FlashLink data logger. Once installed on a Windows PC, the program runs automatically when a logger is connected via the USB adapter. The PDF is then created, saved, and displayed on screen automatically. These PDF files can easily be archived and emailed.
More information on FlashPDF Software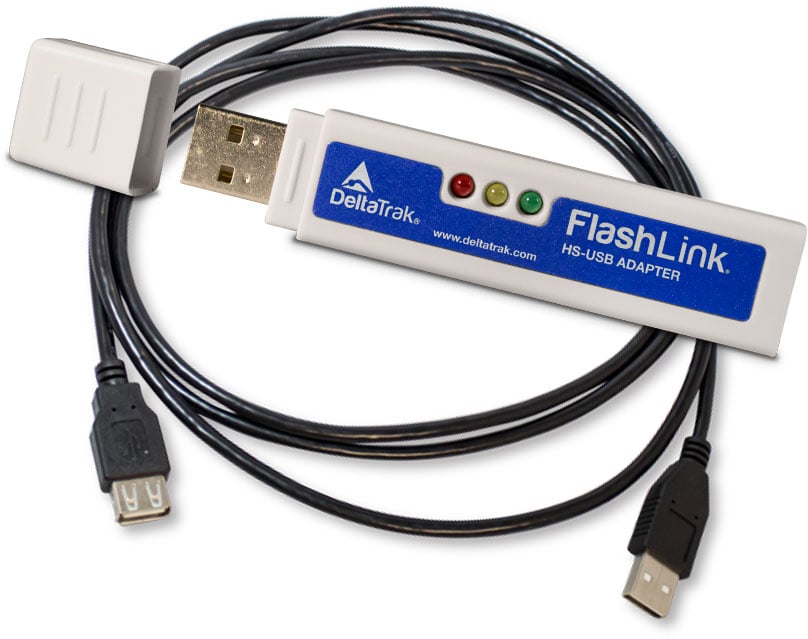 Model 20719: FlashLink 8 Pin to USB High Speed Adapter Kit
Eight pin to USB adapter
USB extension cable included
Download FlashLink 8 Pin to USB High Speed Adapter Kit Spec Sheet